Safe, healthy, productive
Facilities Solutions
including restroom supplies, food service disposables, cleaning supplies, equipment, service and training for clean, safe, productive environments.

Efficient, reliable, sustainable
Packaging Solutions
including materials, equipment and services to support manufacturing, food processing and transportation industries, as well as products to solve any enterprise's everyday challenges, including storage, maintenance, shipping, safety and more.
Timely, efficient, consistent
Marketing Solutions
including sales collateral, point-of-purchase displays, promotional products and technology solutions for an efficient, effective marketing supply chain.  Learn more about NVISION.
Facility Solutions for Commercial Real Estate
Keep tenants comfortable and contented
Solutions to keep restrooms reliably stocked with minimal effort
Odor control and personal care products that ensure a luxurious experience
Expertise for choosing the right products and dispensers to elevate your brand image
Promote tenant and employee safety
Proper walk-off matting to prevent slips and falls
Signs and barriers to direct foot traffic around hazards
Ice-melting options to meet your safety, cleanliness and regulatory needs
Convenient hand-sanitizing stations to control the spread of pathogens
Embrace environmental responsibility
Green products and expertise to help minimize your environmental footprint
Reporting to track your sustainability spending and results
Sustainable products to help you earn LEED Existing Building certification
The pride of working and living in low-impact buildings
Packaging Solutions for Commercial Real Estate
Simplify building maintenance and repair
Products for moving, painting, remodeling and other needs
Tapes, stretch films, corrugated boxes and more
Fast, cost-effective delivery of the products you need, when you need them
Provide for personal comfort and safety
Floor matting, ice-melt products
Safety gloves, eye and hearing protection, PPE
Marking tapes, safety signage, physical barriers
Get more value within your budgetary constraints
A single provider for all your needs
Consolidated ordering for efficiency and value
Fast, cost-effective delivery of the products you need, when you need them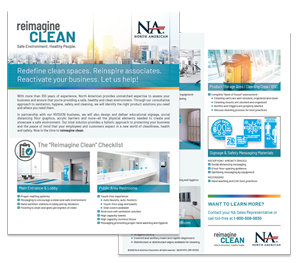 Reimagine Clean - Safe Environment. Healthy People
For the commercial real estate vertical, now is the time to rely on proven building sanitation practices, personal hygiene protocol and clear communications. It's time to reevaluate your safety and cleaning standards and retrain your staff in the safest, most effective methods. North American is the one partner who can help you do it all. Now is the time to reimagine clean.
Marketing Solutions
Deliver your brand consistently, efficiently and on time. NVISION drives results across your marketing supply chain, from strategic planning to execution of printed collateral, store signage, point-of-purchase displays, direct mail, promotional items and more.