SAFE, HEALTHY, PRODUCTIVE
Facilities Solutions
including restroom supplies, food service disposables, cleaning supplies, equipment, service and training for clean, safe, productive environments.

EFFICIENT, RELIABLE, SUSTAINABLE
Packaging Solutions
including materials, equipment and services to support manufacturing, food processing and transportation industries, as well as products to solve any enterprise's everyday challenges, including storage, maintenance, shipping, safety and more.
TIMELY, EFFICIENT, CONSISTENT
Marketing Solutions
including sales collateral, point-of-purchase displays, promotional products and technology solutions for an efficient, effective marketing supply chain. Learn more about NVISION.
Facility Solutions for Healthcare
Help control facility-acquired infections
A wide range of disinfectants and sanitizers with efficacy (claims and effective times) to meet the needs of any facility
Support for documentation of processes related to all housekeeping tasks to help with a successful JCAHO audit
Products that are sustainable, low-VOC, and pleasant to use, leading to a healthier and more productive staff, and to higher quality-of-care ratings from patients
Improve patient satisfaction and safety
Low odor/no odor products that meet stringent California VOC regulations
Low-noise cleaning equipment and dispensers
Innovative floor coatings and maintenance programs for all substrates, including the newest technology of LVT and synthetic sheet goods flooring
Personal care products with a comfortable, at-home feel
Ensure adherence to corporate mandates
A high level of awareness and product offerings that are sustainable, contain recycled content, and are compostable
Support for sustainability programs and documentation
Group purchasing organization (GPO) compliance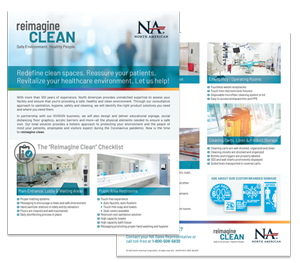 Reimagine Clean – Safe Environment. Healthy People.
For hospitals and healthcare facilities, now is the time to rely on proven sanitation practices, personal hygiene protocol and clear communications. It's time to reevaluate your safety and cleaning standards and retrain your staff in the safest, most effective methods. North American is the one partner who can help you do it all. Now is the time to reimagine clean.
Marketing Solutions
Deliver your brand consistently, efficiently and on time. NVISION drives results across your marketing supply chain, from strategic planning to execution of printed collateral, store signage, point-of-purchase displays, direct mail, promotional items and more.