SAFE, HEALTHY, PRODUCTIVE
Facilities Solutions
including restroom supplies, food service disposables, cleaning supplies, equipment, service and training for clean, safe, productive environments.

Efficient, Reliable, Sustainable
Packaging Solutions
including materials, equipment and services to support manufacturing, food processing and transportation industries, as well as products to solve any enterprise's everyday challenges, including storage, maintenance, shipping, safety and more.
Timely, Efficient, Consistent
Marketing Solutions
including sales collateral, point-of-purchase displays, promotional products and technology solutions for an efficient, effective marketing supply chain. Learn more about NVISION.
Facility Solutions for Manufacturing
Keep your focus on productivity
Clean, efficient facilities, so you can focus on making your product
Vast selection of supplies and equipment in every category
Expertise to help you choose the right products for your operations
Help protect employee safety
Floor products, equipment and matting to prevent slips and falls
Safety gloves, eye and hearing protection, PPE
Safety signage, marking tapes, physical barriers
Simplify vendor management and purchasing
One partner relationship with access to multiple suppliers
Consolidated ordering and billing for efficiency and value
Assured consistency of supply, including next-day delivery
Packaging Solutions for Manufacturing
Maximize production line uptime
Rapid delivery of the products you need to keep production moving
Reliable packaging equipment, maintenance and service
Equipment and supplies optimized to your unique requirements
Consolidate vendors for increased efficiency
A single provider for all your needs, including equipment repair and maintenance
Direct materials, indirect materials and packaging equipment
Expertise to help select the best products for your processes
Simplify contract manufacturing and co-packing
Support for creating a more efficient production model
Brands from leading manufacturers bundled at the right price points
North American's own brands for the highest quality and value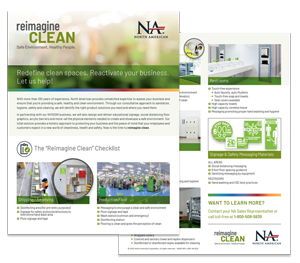 Reimagine Clean – Safe Environment. Healthy People.
For manufacturing facilities, now is the time to rely on proven sanitation practices, personal hygiene protocol and clear communications. It's time to reevaluate your safety and cleaning standards and retrain your staff in the safest, most effective methods. North American is the one partner who can help you do it all. Now is the time to reimagine clean.
Marketing Solutions
Deliver your brand consistently, efficiently and on time. NVISION drives results across your marketing supply chain, from strategic planning to execution of printed collateral, store signage, point-of-purchase displays, direct mail, promotional items and more.